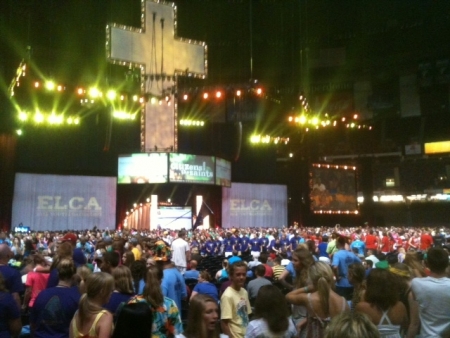 2024 ELCA Youth Gathering location announced
CHICAGO (March 31, 2022) - The Evangelical Lutheran Church in America (ELCA) has announced that the 2024 ELCA Youth Gathering will be held in New Orleans, July 16-20. The Gathering pre-events - the Multicultural Youth Leadership Event (MYLE) and the tAble, the ELCA gathering for youth living with disabilities - will be held July 13-16.
The Gathering brings together thousands of high-school age Lutherans from across the country and overseas for faith formation, worship, fellowship and service.
"The ELCA Youth Gathering at its core is about faith formation. Jesus calls us to love God, our neighbor and ourselves," said Deacon Tammy Jones West, interim program director for the Gathering. "The Gathering is a place to broaden our understanding of God's love; to pay attention to, advocate for, and care for our neighbors; and to know that as both saint and sinner, we are loved."
Earlier this year the ELCA announced that the 2022 ELCA Youth Gathering had been canceled due to the ongoing pandemic, the recent COVID-19 surge and public health considerations.
An announcement today from the ELCA Youth Gathering states: "We're jazzed to announce that we're heading to New Orleans for the 2024 ELCA Youth Gathering, MYLE and the tAble. The Big Easy is filled with rich history, friendly locals, amazing food and great music, and we just can't wait to go back."
New Orleans hosted two consecutive ELCA Youth Gatherings - in 2009 and 2012. Service-learning projects during both events addressed the devastating effects of Hurricane Katrina, and participants worked alongside residents to help in the long-term recovery efforts.
The Gathering leadership team is collecting ideas to help choose a theme for the 2024 ELCA Youth Gathering. Participate in the survey.
More information is available at ELCA Youth Gathering.
https://www.elca.org/News-and-Events/8135
- - -
About the Evangelical Lutheran Church in America:
The ELCA is one of the largest Christian denominations in the United States, with nearly 3.3 million members in more than 8,900 worshiping communities across the 50 states and in the Caribbean region. Known as the church of "God's work. Our hands.," the ELCA emphasizes the saving grace of God through faith in Jesus Christ, unity among Christians and service in the world. The ELCA's roots are in the writings of the German church reformer Martin Luther.
For information contact:
Candice Hill Buchbinder
773-380-2877
Candice.HillBuchbinder@ELCA.org