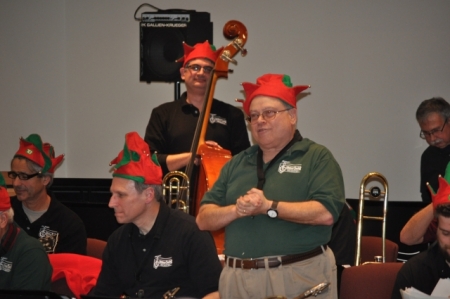 Summer Swing Orchestra to Perform at
Living Waters Church on Tuesday, December 17
Free concert is open to all.
December 1, 2019 - Summer Swing Orchestra will be performing a free concert on Tuesday, December 17, at 7:30 p.m., at Living Waters Lutheran Church, located at 11 Old York Road in Ringoes. All members of the community are invited to attend.
The Summer Swing Orchestra, which holds rehearsals at Living Waters,includes full instrumentation in the tradition of the great swing and jazz orchestras of the 1930s and '40s. Steve Kaplan, the orchestra's energetic and talented musical director, is very entertaining, explaining the music and encouraging audience participation with original arrangements of sing-alongs and medleys of lively popular music.
About Living Waters Lutheran Church
Living Waters Lutheran Church is a member congregation of the NJ Synod of the Evangelical Lutheran Church in America (ELCA) and is a Reconciling in Christ congregation. Rev. Lee Ann Zandstra serves as pastor. For additional details, call 908-284-9455 or visit www.lwlc-flemington.org.